The iPhone 4 was announced today during Steve Jobs' keynote at WWDC and the world is taken by storm again.
Its flagship features are, of course, the extremely high resolution screen, video chat capability with FaceTime, and the sexy new form factor. But there's more to the 4 than that, and even those seemingly self-explanatory new features deserve a closer look. Let's see just what Apple's done here with its biggest update to the iPhone since the original.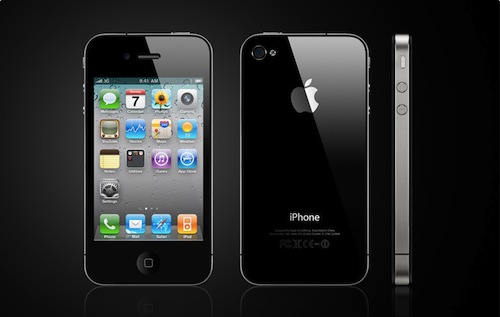 We're all pretty familiar with the new body, since it was really the focus of Gizmodo's exposé. In fact, that was pretty much the limit, since they couldn't do much else with a dead, locked phone. But they examined it very closely and found it to be beautiful and metallic. Its new squared-off look is a signal from Apple that this is an entirely new phone, not just an iteration of the original. You might say this is the true sequel to the iPhone, the 3G and 3GS being merely refinements of the original design. Three years is a long time to stick with what was essentially the same design, especially for a company as chameleonic as Apple. A change was due, and the change is welcome.
The new design is more squared off, with a flatter back, creating a stronger shape in both your hand and eye. It's not trying to hide the buttons, but rather showing off their careful placement and clean lines. I think the overarching themes here are power and superiority, rather than slickness. The glass on both sides, we found out in the closing video, is "almost as strong as sapphire crystal" and can deform pretty seriously without breaking. Good news to those of us afraid of exploding iPhones.
The previously reported dimensions are accurate: 4.5×2.31×0.37 inches. It weighs 137 grams, more than expected and slightly heavier than the 3GS. It's similar enough in size and weight to the old one that you probably won't notice the difference, but the new flat back and squared-off edges will either delight or bother you. I'm guessing delight.
The announcement that the steel rim of the phone is in fact the phone's antenna nullifies concerns people had about potential signal blocking, like we have seen in several other Apple products.
The Display
The new 3.5-inch "Retina" IPS LCD display sports 326 pixels per inch, and is 960 by 640 pixels. They're calling it "resolutionary." Hmm — Apple puns. 960×640 will be a meaningless number to most people, but the resolution nerds among us will recognize three things about it right off the bat.
It's a higher pixel count than any other phone out there. Even the mighty EVO 4G is only 800×480, and at a larger screen size to boot. This means the iPhone screen is among the sharpest, if not the sharpest, in existence (and suggests a similar upgrade for the iPad once the LCD tech is scalable).
It's twice the original resolution. All the old iPhones were 480×320. By multiplying both of those numbers by two for the new resolution, Apple has ensured that all the old apps can run on the iPhone 4 with a simple 2x stretch filter. Very important for back-compatibility and taking advantage of the enormous number of apps in the store. Expect "HD" upgrades for your favorite apps, though, and expect to pay. Update: We got some full-size screenshots here.
It's very nearly iFrame. Surprisingly, though, the iPhone 4 records in 720p. Whither iFrame? Is Apple giving it up? I sure hope so. (update: nope, it's there in iMovie instead of 480p)
The Cameras
The new 5-megapixel rear camera is a decent improvement. I complained recently about cameras trying to resolve too much detail on a tiny sensor, and the iPhone camera will continue to to that, I'm sure, but the larger lens can only make things better. The backside illumination, too, should really improve low light performance, as well as the LED flash.
iMovie: We've written it up in a little more detail here, but essentially you've got a powerful mobile timeline-based movie editor. That's pretty insane. The interface looks pretty simple; you won't be cutting together feature films with this thing, but you could certainly edit a home movie, and of course it's perfect for sticking together multiple shots from your iPhone. It'll cost $5 in the App Store — which seems kind of weird until you realize that it's really sort of a premium add-on, and its themes and assets are things some users would rather just not have clogging up their phone.
iOS 4
Too many improvements to mention here…
There's also iBooks for the iPhone now. Not bad: the increased resolution puts the iPhone 4 almost in e-ink territory when it comes to sharpness of text, so this could be real nice. Native support for PDFs will be handy as well. Good news: all your iPad books will work on the iPhone 4 as well. No separate download or separate book.
It's worth mentioning that IOS is already an OS, and one by Cisco to boot. It's deja vu all over again!
iAd got another plug, and will be going live July 1st. Joy!
Inner gear
The iPhone 4 runs on the A4 processor, the same one that's found in the iPad (or near enough). Jobs claims a 40% improvement in battery life due to the efficiency of the A4 (plus the 16% larger battery): 7h 3G talk, 6h 3G browsing, 10h Wi-Fi, 10h video, 300h standby. Nice. This will certainly be used for making better and faster apps, and you'll be seeing a lot of that in new games. Speaking of which:
The iPhone already had an accelerometer setup that allowed for limited motion controls, but the new 3-axis gyroscope is "perfect for gaming" according to Steve. Take that, Nintendo! With the new screen and this improved controller, the iPhone may now actually be a credible threat to the big N.
Its output options are unfortunately limited compared with other devices: the dock connector will allow for a 1024×768 signal, which was nice in 2007. The iPhone 4 can play 720p files up to 30FPS, but HD output would have been nice as well.
Pricing and Availability
The new iPhone will be available on June 24th. It comes in black or white, and with a new contract, costs $199 for a 16GB version and $299 for 32GB. If your upgrade date is in 2011 (i.e. 1/1/11 or later) you can get the early update price, which is $399/$499. And of course you can always pay full price: $599/$699 with no contract at all. The 3G is being retired, and the 3GS will now be $99. The June 24th date is for the US, France, Germany, Japan, and the UK. The rest of the world will get it in July.
The Dell Inspiron Mini 10
is a compact, easy-to-carry Internet companion that's ideal for helping keep kids, teens, bloggers and travelers connected from just about any location at any time–whether on the couch or on the road. You'll also be able to watch your favorite TV shows wherever you roam thanks to the internal digital TV tuner.
With the integrated digital TV tuner, you'll be able to catch your favorite programs wherever you roam; moreover the the Dell Inspiron Mini 10
includes three USB ports, a VGA video output, and 3-in-1 memory card reader.
This netbook is powered by the 1.6 GHz Intel Atom Z530 processor, which is designed especially for mobile devices and features an innovative hafnium-infused circuitry that reduces electrical current leakage in transistors to conserve energy: thanks to a 6-cell battery for up to 6.3 hours of battery power.
You'll be able to surf the Web, chat with friends (both via text and using the integrated 1.3-megapixel webcam), and upload on-the-go photos to blogs or social networking sites.
Standard built-in Wi-Fi wireless connectivity means quick and easy Internet access to hotspots in the home, on campus, in a local coffee shop, or in the office.
It comes in a range of colors, including a shiny Obsidian Black.
The Dell Inspiron Mini 10
comes preinstalled with the Microsoft Windows Windows 7 Starter and it's available now for US $303.84 (that's 24% or US $96.14 off its regular price) so hurry up!
The Pentax Optio I10
is an old-fashioned & retro camera from Pentax just announced at PMA 2010.
The Pentax Optio I10
comes with a 12.1 megapixel CCD sensor and a 5x optical zoom. This old-Fashion Point-and-shoot camera has up to 6400 ISO sensitivity, gyro-based image stabilizer and features an HD Video recording in 1280×720 resolutions. Integrated with a 2.7-inch LCD display, a 26.7MB internal memory, and expandable with SD/SDHC memory card. Other features a Pet Detection mode and Face Detection. Measuring 100.5×65×28 mm and weight 153g. The Pentax Optio I-10 is available in white and black colors.
Retro look but plenty of features!
SLR-inspired design
The nostalgic, eye-catching design of the Optio I-10 resembles classic film SLR cameras. Pentax positioned the flash unit and speaker in the upper mid-section of the camera body to create this original SLR-shaped body, and the leatherette texture and classic 20th century Pentax logo add elegance to the camera design.
Optical 5x wide angle to telephoto zoom lens
The Optio I-10 features an optical 5x zoom lens that covers focal lengths from 5.1mm to 25.5mm (equivalent in the 35mm format to approximately 28mm wide angle to 140mm telephoto). This wide zoom range allows the Optio I-10 to capture a wide variety of subjects and scenes from breathtaking landscapes, majestic architecture and group shots in a confined space, to tightly cropped photos shot from a distance. An Intelligent Zoom function allows even tighter zoom on subjects and extends the digital zoom range to approximately 31.3x.
12.1 effective megapixels for exceptional image quality
With 12.1 effective megapixels, a high-performance imaging engine, and the camera's high performance Pentax zoom lens, the Optio I-10 delivers brilliant, high quality images with well-defined details. Even when enlarged, the images deliver sharp, high-resolution prints with edge-to-edge sharpness.
Improved Face Detection recognizes dogs and cats
The Optio I-10 features an improved Face Detection AF & AE function that detects up to 32 faces in the image field and captures them all in sharp focus with optimal exposure in just 0.03 seconds. This upgraded Face Detection technology now allows users to adjust the camera to detect dogs and cats. Users may program the camera to automatically release the shutter the moment the subject faces the camera, which is especially helpful for pet photography.
The Pentax Optio I10
sports triple anti-shake protection
CCD-shift-type SR mechanism
The Optio I-10 incorporates an advanced CCD-shift-type Shake Reduction (SR) mechanism that compensates for camera shake by shifting the camera's image sensor (CCD) horizontally and vertically in relation to the amount of shake detected by the high-accuracy gyro sensor. This offers outstanding camera-shake compensation equivalent to up to 2.5 shutter steps even when shooting telephoto or in lowlight settings such as sunsets or indoors.
The Pentax Optio I10
is available now for US $274.36.
Canon updated the mid-range section of the DSLR cameras with the new Canon EOS Rebel T2i/550D
.
Building on the popularity of the EOS 500D, the EOS 550D is designed to give you more access to video as well as Eye-Fi compatibility. Priced at US $ 899.99 with the standard 18-55mm f/3.5-5.6 IS lens, the EOS 550D will be available from the 24th February onwards.
There are a few basic upgrades on the Canon EOS Rebel T2i/550D
. Notably is the ISO sensitivity top limit being raised to ISO6400 although you can still expand that to ISO12800 if you wish. An interesting point on this is that you can now cap the highest ISO point while in AutoISO, so it won't use ultra high settings to get a decent shutter speed.
The new screen resolution should help with the new video functions of the Canon EOS Rebel T2i/550D
. It has a Full HD recording facility of 1080p with manual control as well as selectable frame rates. You can choose from 30, 25 and 24fps at full HD quality while pushing it up to 60 or 50fps will reduce the quality to 720p. Alternatively, putting the camera in program mode means you don't have to worry about it. There's also a Movie Crop function that reduces the resolution to a 640×480 area but means you get a magnification of 7x the focal length of the lens.
The metering system now matches the one found on the popular Canon EOS 7D
using the new iFCL metering with 63-zone dual-layer sensor. IFCL stands for intelligent Focus, Colour and Luminance metering and it's this information that the new system uses to meter with. It works in conjunction with the focus points to determine the distance from relative subjects and weights the exposure according to the algorithm results.
Order now, the Canon EOS Rebel T2i/550D
is priced at $799.99.
Miami's Sun Life Stadium will host the 2010 Super Bowl, the most watched event in American Sports. Super Bowl XLIV features the Indianapolis Colts and New Orleans Saints. Watch as they go head-to-head for the right to hoist the Lombardi Trophy.
You may be able to watch it online LIVE. But how is it done? Here's some advice.
First thing first, make sure you have a good quality internet connection!
You can check NFL.com, but you need to check on them every time. The streaming may not be that good as there will be heavy loads of server requests that you may not be able to obtain a slot which will cost you time.
Are you thinking of watching on YouTube? No, I am saying this to you there is no live championship telecast on YouTube, how much more the Super Bowl, so don't waste your time to check Youtube anymore.
You can also check watching it using Sopcast through a Sopcast provider. There are so many Sopcast softwares available in the internet and too many providers. If you are lucky you can watch a clear reception which is a very low probability, but most of the time you will be shoved aside by the other users and you may not have good reception as there will be pauses and late responses from their servers due to poor handling of requests and limited server resources.
We'll be watching the Super Bowl 2010 with some geekery added, just like the Football Snack Bowl
: we love it!
Just press the air inflation button and the top of the football swings open and plays the FOX NFL THEME music.
NO NFL fan should live without it!
The PSP Pack
Limited Edition Assassin's Creed: Bloodlines Entertainment Pack brings together the latest hardware revision of the PlayStation Portable (PSP), with action, adventure, ancient intrigue and overall digital entertainment like you never thought possible. The Bundle includes a "Pearl White" PSP-3000 system, a copy of Assassin's Creed: Bloodlines in UMD format, a 2GB Memory Stick PRO Duo, an "Angels & Demons" PlayStation Store downloadable movie voucher* and a Sony Music Voucher for 10 downloadable songs.
Assassin's Creed: Bloodlines played a PSP-3000. Both included in the PlayStation Portable 3000 Limited Edition Assassin's Creed: Bloodlines Entertainment PSP Pack
Assassin's Creed: Bloodlines on PSP is the first Assassin's Creed game on the PSP. It follows the story of Altair right after the events of Assassin's Creed as Altair tracks down the last Templars who fled the Holy Land and retreated to the Island of Cyprus. The world of the assassin is one cloaked in shadow and steeped in danger. Ensnared in a web of revenge and conspiracy, the assassin embraces power at its most elemental, acting as the dividing line between life and death. As an assassin confronted by perilous new challenges and difficult choices, what path will you choose?
Bloodlines Features Integrated with Those of Assassin's Creed II
Assassin's Creed: Bloodlines contains several bonus features integrated with the PlayStation 3 version of Assassin's Creed II through a USB link between the two systems. Players who own both games can collect "Templar Coins" in Bloodlines and exchange them for Assassin's Creed II currency, as well as collect weapons from defeated targets and play with those same weapons in Assassin's Creed II. Through that same USB connectivity, blade and health upgrades found in Assassin's Creed II can be transferred to Assassin's Creed: Bloodlines, making for the ultimate Assassin's Creed gaming experience on both platforms.
2GB Memory Stick PRO Duo
With 2GB of memory, the compact Memory Stick PRO Duo allows you to save your PlayStation Network downloads, as well as store your videos, photos, music and more.
The PSP Pack
comes for US $ 199, if you dare to face Altair's dangers!
We venture that even Edison would be amazed!

Prepare to engineer over 300 exciting, useful electronic gadgets & play lively electronic games with Electronic Snap Circuits' Snap Circuits SC-300
!
This kit features a valuable collection of materials! The colorful and easy-to-follow format of the instruction manual makes circuit assembly stress-free and fun.
All parts are mounted on plastic modules and snap together with ease. Leave the tools in the garage-everything you need for your electronics learning adventure is included.
With Snap Circuits SC-300
your understanding of electronics is a SNAP!
Snap Circuits SC-300
contains over 60 parts and allows for literally over 300 Projects!
Here are just a few:
Lamp & Fan, Musical Doorbell, Laser Gun, Police Car Symphony, Reflection Detector, Spinning Rings, Pencil Alarm, Race Game, Photosensitive Electronic Organ, Space War Music Combo, The Lie Detector, Mosquito, Musical Motion Detector, Fire Fan Symphony, Water Detector, Screaming Fan, Daylight Music Radio, Blow off a Space War, Red & Green Control, Touch Buzzer, Laser Light, Flooding Alarm, Make Your Own Battery, Hissing Foghorn, Blow On a Candle, Mosquito, Voice-Controlled Rays of Light, Spacey Fan, Old-Style Typewriter, Blinking Double Flashlight, Hummer, Motor That Won't Start, Steamship, Pressure Alarm, Feedback Kazoo, Race Car Engine… and more!
Unique Learning Experience
Creating a flying UFO from "scratch" with rudimentary electronic pieces was highly satisfying to us, and we think Electronic Snap Circuits may well help young students gain and foster an appreciation for, and interest in, how electronics work and are built.
For students who are already learning about electronics in school, this set creates a hands-on experience that makes for more fun than reading about how these things work in a textbook.
So don't be surprised if report cards come back with higher grades after playing with this toy.
The Snap Circuits SC-300
is available now for US $39.67 (You Save: $20.32 , -34% and free shipping too!)
Latte Café
32 GB Video MP3 Player offers wide audio and video format support, a voice recorder, and bonus features like a calendar and stopwatch. Add sleek design and an attractive metallic/gray finish, and you've got a perfect PMP package. Enjoy your favorite videos or pictures and navigate with ease on the Café's 4.3-inch touchscreen display with 480 x 272 (WQVGA) pixel resolution.
The Latte Café 32 GB Video MP3 Player features amplified dual speakers so you can share music or videos with friends. Throw on headphones for private listening. While some devices limit you with their skimpy format support, the Café will play MP3, WMA, FLAC, AAC, and APE music formats for about 8-10 hours on a single charge. Standard play modes like repeat and shuffle are included, and of course the Café supports ID3 tages (versions 1 and 2) for displaying song info while you listen.
Take your favorite videos with you and enjoy them anywhere with the Café's brilliant screen. You'll get about four hours of video playback on a single charge.
The Latte Café
32 GB Video MP3 Player supports AVI, RM/RMVB, and FLV formats, so you can enjoy more video with less conversion.
Latte Café
is now available with 27% saving at US $ 181.49!
Tired of all the remote controls cluttering up your coffee table? Logitech wants to control your entire entertainment center with its Logitech Harmony 890

.
Lets face it, there's a downside to the consumer electronics revolution. A proliferation of black or silver boxes that live under the omnipresent TVs bring with them a multitude of separate remote controls; one to change the volume of the stereo, one to turn on the TV, one to control the DVD player, another for the TiVo; the list goes on.
The Logitech Harmony 890
puts you in control of your entire audio-video system with just one button. It's home entertainment the way it should be–simple.
Optimized for complicated HDTV and PVR systems, the Logitech Harmony 890
helps you tame tough configurations like switching your television between video aspect ratios depending on the program source. The interactive color display lets you quickly choose a 16:9 ratio for movies and HDTV, or a standard 4:3 ratio for basic television programming.
The new remote control models from Logitech's Harmony line. Their newest consumer remote, the Logitech Harmony 890
, departs from the norm and adds a 128×160 pixel full color LCD display and docking cradle to recharge the included Lithium-ion battery. The entire remote has been completely remodeled by Logitech's design team. This model is the culmination of the company's influence and experience being put to the test in an effort to improve upon the past Harmony designs and ergonomics.
The remote's LCD screen goes to sleep automatically, but is awakened "automagically" when the remote is picked up or when the GLOW button is pressed. The contrast is a bit high on the display, and it cannot be adjusted, but all text appeared to be reasonably easy to read. The Volume, Channel and Navigational buttons are quite easy to reach with the thumb and are very well laid out. Selecting from the eight activities or user controls via the LCD screen's side buttons is also very easy to do,
The baseline?
Simply press an Activity button, such as "Watch TV" or "Listen to Music," and your Harmony Remote automatically sets up each of the devices required for that activity. Sleek docking station that remote fully charged Programmable with Windows PC or Macintosh computer / USB Cable included 53 top-mounted hard buttons and 8 on-screen activity buttons 2 MB non-volatile flash memory.
Yes, that's right, the Logitech Harmony 890
comes with programming software for both Windows and Mac OS X!
Now the Logitech Harmony 890
comes with 50% saving at US$ 199.99!
The Nikon D3000
is an entry-level DSLR, but don't let the term fool you. When you place the label "Entry Level" on a camera, it might call to mind a camera with no frills, limited uses, and little more to offer than an automatic shooting experience.
This has been disproved by the latest crop of cameras released in the past two years, and the D3000 continues to set the bar high for an entry-level camera.
This new generation of point-and-shoots and entry-level DSLRs not only push the boundary of low-light performance and mega resolutions, they give that power to a whole new audience of beginning photographers.
Not only do DSLRs offer you manual control over shooting, they give you the advantage of using different kinds of lenses. It's important to remember when buying a DSLR that you're also buying into a system of lenses, not just a camera. The power of having a DSLR is that you can place any of your old lenses onto a new camera body in the future.
Enter the Nikon D3000
, a new entry-level DSLR with a 10.2 megapixel DX-format CCD APS-C image sensor, 11-point Autofocus system with 3D tracking (which comes on the higher-end D5000 and D90), Active D-Lighting and an AF-S DX NIKKOR 18-55mm f/3.5-5.6 VR lens for $599.
The Nikon D3000
feels and looks exactly like the other DSLRs from Nikon, and is only different from the D90 and D5000, both higher-end models, by a few tenths of an inch. The D3000 measures 5.0×3.8×2.6 inches while the D90 is 5.2×4.1×3.0 inches, though the D3000 weighs a bit less at 1 lb 1 oz, making the Nikon entry-level to prosumer DSLR models almost identical in shape and size as well as overall appearance.
First time DSLR users will enjoy the Guide Mode. It literally walked us through different shoot scenarios via the fixed 3″ LCD screen. An excellent tool, its step by step instructions allowed my niece to move from the operating booklet in no time.
The Nikon D3000
is paired with a Nikkor 18-55mm AF-S DX lens. It will operate with any Nikkor DX and AF-S lens.
Nikon makes it really simple with a thumb dial for tweaking aperture and shutter speed. Metering, focus modes, and exposure compensation are easily controlled via the menu. The D3000 does not shoot in video mode. This model easily shoots over three frames per second in continuous mode. The 3D tracking sensor operates quite well in low lighting.
Get the full Nikon D3000 10.2MP Digital SLR Camera with 18-55mm f/3.5-5.6G AF-S DX VR Nikkor Zoom Lens
bundle for US $458.86 (You Save: $91.09 and that's 17%!) now and enjoy a limited-time free-shipping!
Even though the Nikon D3000
is really simple to use, do you really want some great advice on using it?
Get the Nikon D3000 For Dummies
!
Explore your camera's creative options and learn to get great shots with your dSLR with this great book!
Get the Nikon D3000 For Dummies
for US $ 19.79 (and save up to 34%!)!